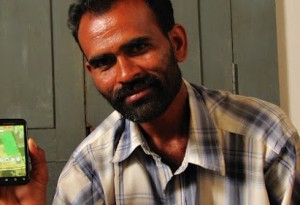 On the road to Chennakeshavapura, a helpful sign on a stone identifies the village as CK Pura for short, but that message is lost on many illiterate residents. For them, reading and writing matters less than channeling enough water to their fields and growing enough peanuts to ride out the drought years.
In 2007, Swiss computer scientists and Indian agricultural scientists offered to install wireless sensors in the peanut fields at CK Pura and collect data the farmers might find useful for improving their yields. There was just one problem: few of the farmers could read the recommendations.
Now the farmers are testing smart-phone software designed specifically for illiterate users. An early version communicated valuable information about the farmers' crops, but the latest version should also let them send and receive text messages, using icons that are translated into words. The work could lead to other tools that give illiterate people elsewhere access to mobile communications.
Read the rest of this news story at Technology Review [html] [pdf]