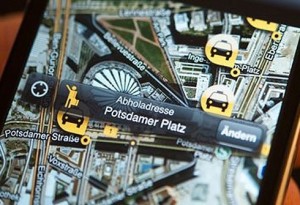 MANY cabbies pay a dispatcher to keep the fares coming. The dispatchers are an information clearing-house, offering customers a central point of contact and offering on-the-move drivers directions to the nearest prospective passenger. But location-enabled smartphones in the pockets of more customers, and on the dashboards of more drivers, offer a tempting way to skip the middleman. If, that is, customers and drivers can find a handy way to share their locations.
Enter the app developer. In Sweden, Germany, Spain and Britain this new breed of middleman has released a slew of taxi-finding apps in recent years. When a customer requests a taxi, the applications ping the nearest available driver. He can accept the fare, paying a small commission, or skip it. Some applications offer customers an estimate of the fare, ratings of potential drivers or, once a match is made, a moving blip on the map, showing  their drivers' progress. All this is especially useful for visitors unfamiliar with a city or late-night revellers uncertain of their street address.
Location technology is not new for taxis. Radiotélefono Taxi de Madrid armed its fleet of around 3,200 taxis, the biggest in Spain, with Global Positioning System (GPS) hardware beginning in 2003. But until the firm partnered with app-maker GooTaxi in January 2011, customers had to provide their location and destination the old-fashioned way, though a dispatcher.
"Making calls is obsolete," declares Francisco Rueda Arribas, co-founder of Wannataxi, a start-up taxi matchmaker in Spain. Wannataxi and other hopefuls are betting that more customers will book taxis with their fingertips, not their ears, glued to their phones.  These outsiders—Mr Rueda and his business partner are telecoms engineers—are also betting that they can beat dispatchers at their own game. Wannataxi will not work with existing dispatchers so as to retain control over their business model, Mr Rueda says, and, presumably, the profits. In Germany, a start-up called myTaxi, which has backing from Deutsche Telekom, is competing for drivers and customers with established dispatchers such as Berlin-based Taxi Pay. Between them, several would-be taxi apps have attracted tens of millions of dollars in early-stage investments.
But Taxi Pay and other dispatchers are not lingering in the taxi rank. Taxi Pay's owner and boss, Hermann Waldner, launched taxi.eu, a website and accompanying smartphone application which seeks to capture some of the smartphone set for a Europe-spanning network of over 40,000 taxis. He figures the established players can offer customers shorter wait times than the upstarts and retain their market-leading position. "Everyone thinks he gets very quick money off this," Mr Waldner says, "but in four to six years I don't think there will be so many apps in the market."
So dispatchers and developers are in a race for taxi market share. Mr Waldner says he wants to expand into Spain and Britain. Wannataxi, in turn, has its eyes on the potentially enormous South American market, where reliable information about a taxi's security would command a premium. Established dispatch firms are trading on trust, not just location information, agrees Andrés Veiga, vice-president of Radioteléfono Taxi de Madrid. His firm gives customers somebody to whom they may complain in the event of bad service, he says, and that's indispensable.
Safety standards are supposedly what separates government-approved taxis from unregulated drivers who would otherwise flood streets with cheap rides. Of course, there is an app for that, too. Or rather, some taxi-booking applications allow users to rate drivers and decide whether or not to hail a particular taxi based on that drivers' rating. The flip side? Wannataxi, at least, will flag customers who cancel cabs or stiff their drivers for a fare.
First published by The Economist's Babbage blog: [html] [pdf]