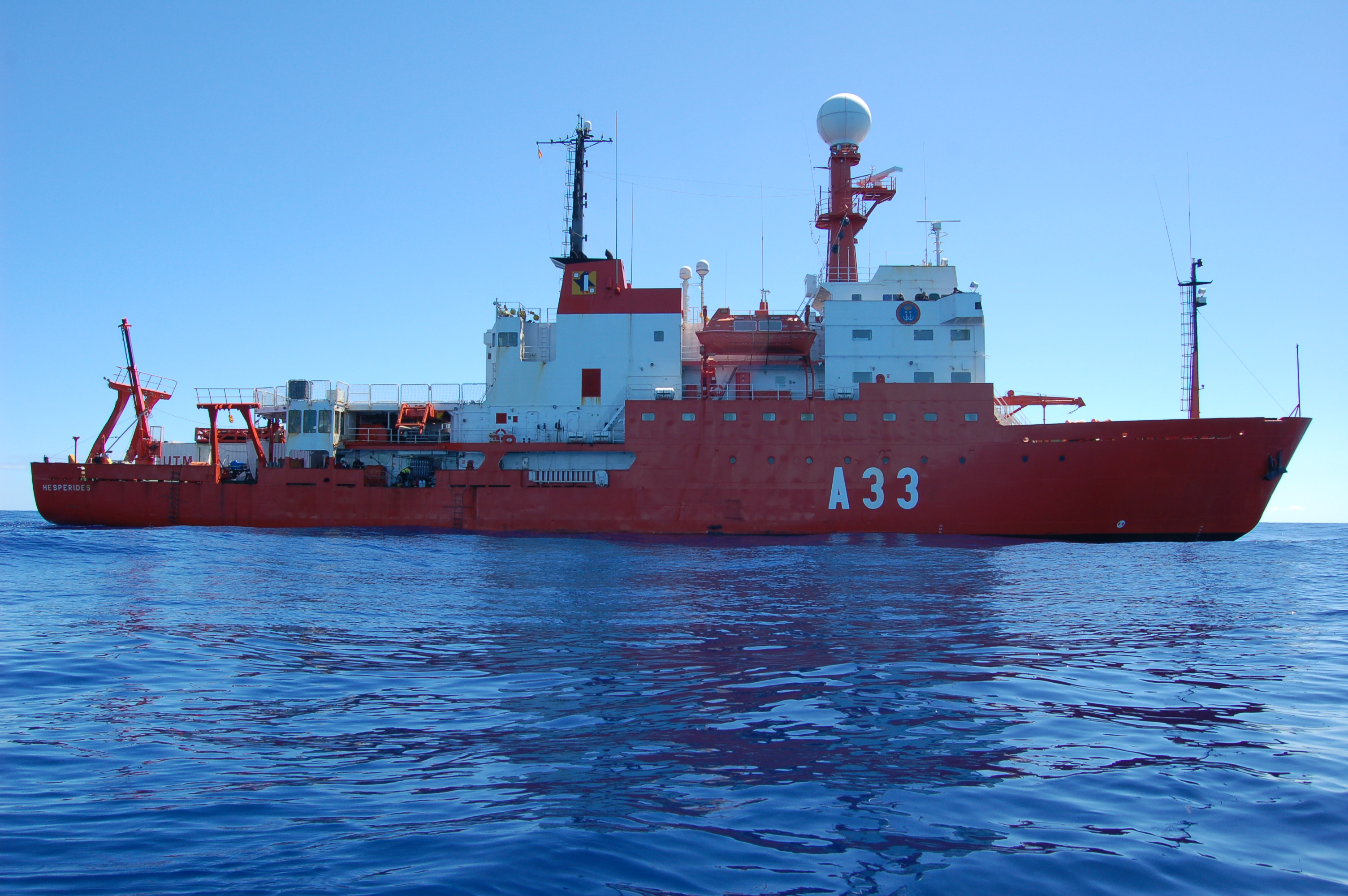 S 32° 3' 0″ E 115° 43' 58″
Broken electronics sit on a shelf in one of the laboratories on the Hespérides, awaiting repair. Finger bones smashed by errant sampling bottles are knitting nicely, the medic says. And supplies ordered last week before we lost our main satellite connection await the ship in port. The Hespérides is now pausing in Perth, Australia. The ship stays long enough to pick up more supplies, drop off some researchers, and pick up a few more before heading off to Sydney. It's also a chance for the sailors and scientists who continue to Sydney to recharge their mental batteries after 30 days at sea.
Renewal and restoration are built into the plan for this expedition. "The biggest difference between this and regular laboratory work is that here you have to plan all the logistics ahead of time. You can't go out and buy something if you discover you need it," says chief scientist Jordi Dachs, of the Institute of Environmental Assessment and Water Research (IDAEA) in Barcelona. During each leg, the team must bring spare equipment and repair what they can't replace.
The same goes for people, at least in the short term, according to Spanish Navy Captain Alberto Escribano, second-in-command of the Hespérides. One a "gray boat," as navy sailors call their warships, sailors work in alternating 6-hours shifts. "You can only do that for about 15 days at a time. For longer-term cruises, like on the Hespérides, we do more of a normal working schedule," says Escribano, "and we break up the routine with things like meals outside on deck or card tournaments or the Carnaval costume contest." It's more productive, he says, to keep staff fit than to fix staff.
This expedition has seen its share of stitch-in-time-saving-nine moments. "It could be the net, or it could be the way it's attached to the cable, or it could be the winch, but something is wrong with this system," says Jose Ángel Fernández Lamas, a technician at the Spanish Oceanographic Institute (IEO) in A Coruña. Up on the bridge, sailors use a joystick to keep the ship steady against currents and winds during each day's observations, and there is constant chatter between the bridge and the technicians on deck during these operations to keep the nets from tearing from sudden movements. But failure is inevitable, Fernández says, so the team brings spare nets. While he's using those, though, Fernández sits down with the broken nets and stitches them back to health.
Federico Maldonado Uribe says that this kind of adaptability is born of necessity. "One of my colleagues came back after training in the United States and I saw her throwing out tubes after one use." At the time the marine physiology graduate student at the University of Las Palmas in Gran Canaria was working at a laboratory in his native Colombia. "I had to explain that in our lab we washed them and re-used them," he recalls, because of the labs limited resources. "We called it doing science with our fingernails," he says.
It's also exhausting. "Many of the cases of scientists getting upset are because they're going 100% all the time and then something like an equipment failure happens," Escribano says. "We try to chat with them and help them put the problem in perspective." They will still get work done, says Dachs, even with a few missing data points. "We plan on losing some data," he says, "and you have to have some time to recover because you can't work like this all the time."
There is still more than half a world to sail. After a few days' rest in Perth, most of the current crew will continue to Sydney, which marks the symbolic halfway point. There will be more stops in Auckland, Honolulu, and Cartagena de Indias in Colombia. The final leg will take the Hespérides back across the Atlantic to its home base of Cartagena in southern Spain by mid-July. Plenty of time for more failures and for more science.
This is the last post in this series for The Great Beyond. For further coverage of the Malaspina expedition, please see my website.
Previous posts in this series:
Malaspina expedition: Cosmopolis of specialists (10 March 2011)
Malaspina expedition: Not an obsession (7 March 2011)
Malaspina expedition: Persistent pollutant pursuers (3 March 2011)
Malaspina expedition: Deep sea -omics (28 February 2011)
Malaspina expedition: Catching our breath (24 February 2011)
Malaspina expedition: Data deluge (21 February 2011)
Malaspina expedition: Water, water everywhere and not a drop to sample (17 February 2011)
Malaspina expedition: Starting out with a splash (14 February 2011)
Malaspina expedition: Shipping out (11 February 2011)
Images: B.I.O. Hespérides in the Indian Ocean; a repair job / Lucas Laursen. Map indicates approximate location of dispatches.